2020 has been a tough year for everyone, and bike racing has been no exception. With the racing season effectively canceled in the US, and having lost last years' season to a broken femur I was looking for something to train for and challenge myself. Everesting has been something I've contemplated doing for a bunch of years now since I love climbing and love pushing my limits but the ebb and flow of rest, training and racing never felt like it left enough space for me to make a good attempt. Now seemed like the perfect time, and my COVID-training-buddy Phil Gaimon agreed so we set our sights on breaking the fastest Everesting time.
Everesting requires that you do all your laps on the same stretch of road, so a big part of Everesting quickly is finding the right climb for the job. The record was 8:23 and our goal was to go sub 8 hours for our effort. We had loosely been banging ideas about which road – or section of road – would be best for a year or two, but now we really focused and Phil came up with Mountaingate in Brentwood as the best option. We did a bunch of nerding out on Strava, and looked at the two best times and the climbs they did their attempts on. Mountaingate looked great as it was right between the two with an 11% average grade despite it being a bit shorter than we would have liked at just under .8 miles. We went out and rode it a few times to get an idea of how hard we'd have to go up the climb and how long a full lap would take. After going way too hard on our first test day we came back and settled on just under 8 mins for a full lap as our minimum time needed to sustain a sub 8-hour effort. We also learned a little interesting history of the climb. Now it's a road to a fancy golf course and a few gated communities, but it was originally a landfill and there was a bike race to the top called the Turkey Trot in the 1980s.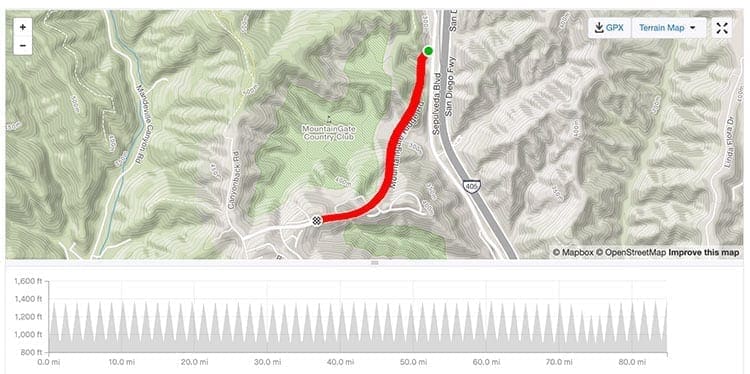 Our testing finished, there was only a bit of training to finish up, get rested for a week and do the effort on a day when the weather wasn't too hot. We settled on a Monday where the temp wouldn't be above 80 and got to work. This effort is a bit of a strange one because while we were setting a decent pace, we knew it wouldn't hurt until the second half. The first four hours were pretty much just a nice ride. We had a few friends come out and join us for a lap or two or to just cheer us on and that really helped keep us entertained as we had 60.5 laps to complete. My wife Kelton and Phil's girlfriend Emily were excellent feeders all day long.
Unfortunately around hour 5, I started to really suffer all of a sudden. My stomach got upset and I had no power in the legs. Everything became a blur pretty quickly but around lap 40 I just couldn't hold the pace and quickly ran out of gas almost completely. I'm not sure if I messed up my nutrition, perhaps my sodium intake was low or something else – but I definitely thought I would make it closer to the end before feeling this cracked. Phil and I had the goal of breaking the record together, and once I knew I was off the pace I didn't care about going for the second fastest time but wanted to do as many of the remaining laps with Phil as possible for support. After skipping a few laps, drinking some cokes, eating some cookies and taking a few salt pills I finally came back around and was able to do the last 8 laps with Phil at his pace again. He finished with a time of 7:52, completely empty. He stayed super steady on the pace all day and rode really strong. I was definitely bummed to have the feeling of messing up and not finishing at a pace I think I'm capable of, but I'm looking forward to the next challenge and doing better on that one. Phil's record didn't last long as it was broken already on Friday by Keegan Swenson, a really talented XC mountain bike racer – at Park City altitude no less! He raised the bar by just around 12 minutes, it's going to be hard to beat and fun to see who attempts the record next.
SoCalCycling.com Team Sponsors:
SoCalCycling.com, Jenson USA, Law Firm of Richard Duquette, Borah TeamWear, Bottecchia USA, Clif Bar, Pacific Premier Bank, Full Speed Ahead, Vision, KMC Chain, Gizmo Cycling, ABUS, Larsen's Restaurants, Continental Tires, Rocky Mounts, SH+, Crono, SCC Slick, Echelon Design
By Ben Foster, SoCalCycling.com Team