The CRONO CR-2 Road Cycling Shoe is produced by CRONO, a small Italian manufacturer of cycling shoes, that has 40 years of experience making high-quality sports shoes. Italy is known for stylish footwear and the CRONO CR-2 cycling shoe is no exception with its sleek and light design.
As someone who is very picky when it comes to my cycling shoes, I was looking forward to wearing the CRONO CR-2 Road Cycling Shoes and putting them to the test on some road rides.
Right out of the box, the first thing I noticed was the stylish and clean design and how light they felt. I opted for a pair of white CRONO CR-2's that features subtle red and black highlights that give the shoe a clean and classy look. In addition, the CRONO logo is featured faintly into the design on the outside of the shoe adding some flair. The little laser made holes are multi-functional as they play into the overall look of the shoe and also let the shoe breathe and your foot stay cooler in hot weather conditions.
Setting up my Speedplay cleats was a snap and super easy to install and adjust.
Features
The CRONO CR-2 Cycling Shoe features a high-end leather exterior and the interior of the shoes is so soft and comfortable that you feel like you are wearing a comfortable  pair of slippers, which makes it nice for both long rides and shorter rides alike.
In addition, the Boa® Closure System allows for easy fastening and micro adjusting to get the fit just right and allows for even closure without pressure points. The Boa dials can be adjusted on the fly while riding to bring comfort when your feet swell during a ride, which is nice.
The high profile heel cup also provides comfortable support with a high density TPU heel and soft, breathable lining. In addition, the shoe tongue is soft and comfortable to the top of the foot.
The "Ultra Light Carbon Module" sole of the CRONO CR-2 shoe is super stiff, which provides excellent power transfer from your foot to the pedals without flexing to propel the bike forward while keeping the shoes very light at 250 grams.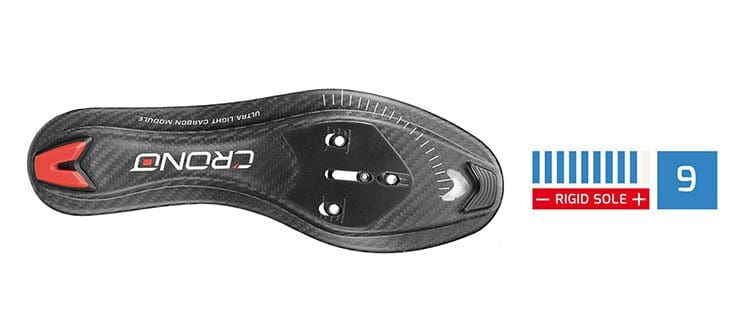 Available Colors and Sizing
The stylish CRONO CR2 Road Cycling Shoes come in four color schemes that will match your favorite cycling kit including: White, Black, Yellow, and Red.
The CRONO CR2 Road Cycling Shoes are available in a wide array of sizes including: 37 – 38 – 39 – 40 – 41 – 41,5 – 42 – 42,5 – 43 – 43,5 – 44 – 44,5 – 45 – 45,5 – 46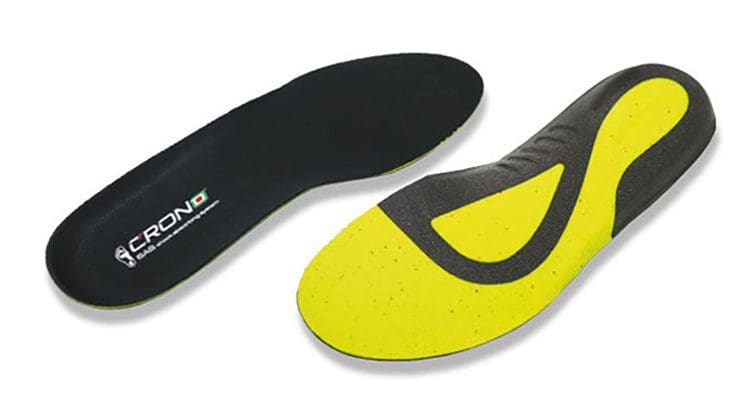 I have been known to stock up on cycling shoes that I love for fear of them being discontinued and I can say that the CRONO CR-2 Carbon Road Cycling shoes are shoes that I will wear for many years to come,
Overall, I am very impressed with the CRONO CR-2 shoes – in addition to looking great, they are extremely comfortable, super stiff for excellent power transfer on the pedals, very light and breathe well on hot days.  They are so comfortable that you forget that you are wearing them and that is a good thing!
MSRP
The MSRP for the CRONO CR-2 Road Cycling Shoes is $ 240.00 – $ 399.99 depending on the color and currently includes a free pair of CRONO socks!
For more information or to purchase the CRONO CR-2 Carbon Road Cycling Shoes, please visit Gizmo Cycling's web site.
CRONO also produces a full line of road cycling shoes including the CRONO CR-1, which we previously reviewed.
Review by Christy Nicholson / SoCalCycling.com