SoCalCycling.com Team rider Christian Gorm, who is from Denmark, has recovered from an early season injury after a few months of rehab and solid training and is showing good form! Christian shares his experience from racing at the Memorial Weekend Omnium.
The Memorial Weekend Omnium went really well for me as I finished 2nd in the GC in the Pro 1/2 race.
Saturday was a 70 mile Circuit race in Lake Hughes. The course was a rolling hill course with a 5-6 minute long hill at the turning point, which made it very hard throughout the race. Not long into the race I went in to a break with Diego Binetena from Legion of Los Angeles and Jason Paez from SC Velo, Jason had to let go as the pace up the hill was quite high, so it was just Diego and I. We were in the front almost all race, until we got caught in the bottom of the hill by three guys including my SoCalCycling.com Team teammate Abner. I got dropped but managed to keep the others behind me securing the fifth place.
On Sunday, we race the Barry Wolfe Grand Prix which was a flat 90-minute criterium. I tried to save as much energy during the race, so I was ready for the sprint. My SoCalCycling.com teammates Abner Gonzalez and Ben Bertiger did an amazing job covering the attacks during the race but nothing got away so it was up to me to get placed well in the bunch sprint. I managed to get a good position before the long finish and I barely got a 3rd place by throwing my bike over the finish line.
This meant that I was second in the GC.
Monday was a 90 minute CBR criterium on a reversed course. My goal was to get top 10 on the stage, as that would secure a top 3 in the GC. The race was really hard and with 6 laps to go, I was in a break with 4 other riders from Legion of Los Angeles which I tried to break away from but without luck. Cory  Williams and Diego Binatena from Legion of Los Angeles attacked right after and managed to stay away while the rest of us got caught with only one lap to go. I had to dig deep to find some energy for the sprint.
My SoCalCycling.com Team teammates and brothers, Graham and Chase Goldstein did a good job keeping me in the front for the sprint and I managed to get 9th place which secured my 2nd place in the GC with only 4 points.
The Memorial Weekend Omnium races were really well-organized and I want to thank the organizers for this amazing three-day omnium.
I couldn't have made this result without the team and I want to thank our SoCalCycling.com Team sponsors as well!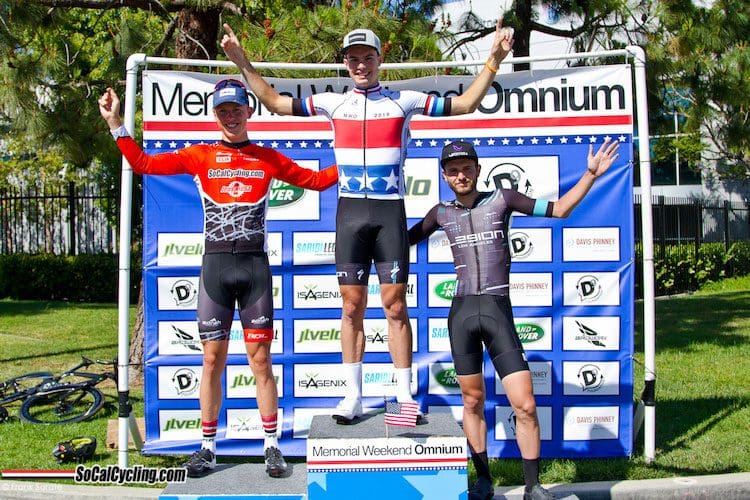 2019 Team Partners
SoCalCycling.com, Jenson USA, Borah TeamWear, Bottecchia USA, Clif Bar, Font Insurance, Full Speed Ahead, ROL Wheels, KMC Chain, Gizmo Cycling, Larsen's Restaurants, Continental Tires, Rocky Mounts, NRC, Bell Helmets, SCC Slick, Echelon Design
Follow Christian on Instagram and follow the SoCalCycling.com Team  at SoCalCyclingTeam.com
By Christian Gorm, SoCalCycling.com Team
Photos by Frank Sarate / SoCalCycling.com