The SoCalCycling.com / Craig Shelly Team raced in the high desert this past weekend at the challenging UCLA Juniper Hills Road Race. The Devils Punchbowl Road Race and Elite District Road Race Championships will be held on the same course next month, so it was a good chance for the riders to preview what lies ahead. The course featured a 12.4 mile loop with 1500 feet of climbing per lap, a fast descent and a brutal uphill finish. The following riders from the SoCalCycling.com / Craig Shelly Team competed in the Pro 1/2 race: Tim Woo, Evan Stade, Lucas Binder and Patrik Ericsson, who arrived from Sweden three weeks ago. Teammates Tyler Locke and Mathew Merrington, who just flew in a few hours before the race from South Africa, provided some much needed and appreciated support in the feed zone.
Below, Patrik Ericsson (SoCalCycling.com / Craig Shelly Team) takes us through his race, which resulted in a third place finish and a spot on the podium in the Pro 1/2 race.
The racing started immediately on the first lap of the six laps. Stefano Barberi (California Giant Berry Farms / Specialized) attacked directly after just one mile of racing and at the end of the first climb the speed was up. But, it took until the second lap for a break to really settle in. I think there were 11-12 guys in the front group that worked well together for about two laps.
When we crossed the finish line for the fifth lap, the racing started again and six riders made the new front group that stuck together until the end of lap five. The break included, Jon Hornbeck (5-Hour Energy pb Kenda), Stefano Barberi, Eder Frayer (Incycle / Predator Components), Geoffrey Curran (Bissell), Thomas Jondall (KHS-Maxxis-Jakroo) and myself.
Photos © Adam Orchon Photography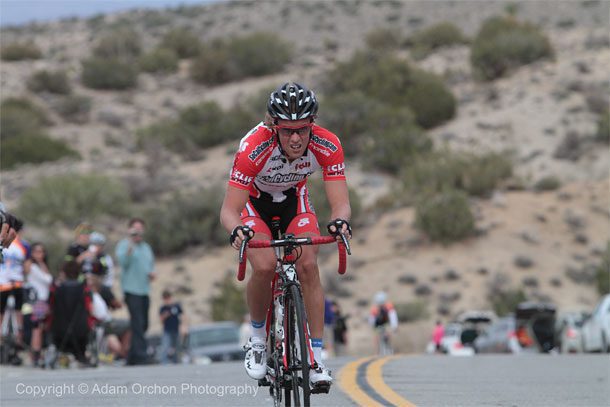 At the end of lap five, the front group was down to four riders after some attacks on the flat part of the course. On the last climb, the attacks for the win started. One of the guys got dropped in the start of the climb and after a while I had to drop off too and try to keep a pace to get third place and that worked out. I could see in front of me that the last two guys came off too. So, I tried to reach the second guy (Geoffrey Curran) at the end of the climb, but he was too strong today. Eder Frayer soloed to the win.
This was my first podium finish in US, so I´m happy about that. It was a hard day on the bike for everybody in the field!
Thank  you to our SoCalCycling.com / Craig Shelly Team Sponsors:  SoCalCycling.com, Craig Shelly Swiss Made Watches, Cannondale, SUGOI, Pacific Premier Bank, Echelon Design web & graphic, Full Speed Ahead (FSA), ROL Wheels, Clif Bar, Incycle, Continental, fi'zi:k, TRP, Larsen's Restaurants, ASEA, Levi Locke and Michael Klinkenberg.