SoCalCycling.com is proud to announce our continued support and sponsorship of the SoCalCycling.com Elite Cycling Team for the tenth year. We are excited to announce our partnership with co-title sponsor Craig Shelly Swiss Made Watches and will be known as the SoCalCycling.com / Craig Shelly Team in 2014.

Team Director, Frank Sarate, has structured the SoCalCycling.com / Craig Shelly Team to include ten Category 1/2 riders.  The team is comprised of a balance of experienced riders and up and coming riders including: Frank Sarate, Tyler Locke, Patrik Ericsson (Sweden), Mathew Merrington (South Africa), Ryan Schneider, Lucas Binder, Evan Stade, Mario Frayre (Mexico), Luke Ollett and Tim Woo.
Team Director Frank Sarate said, "I am very excited about the composition of the team for 2014. We have a mix of seasoned riders and young, up and coming riders. I hope that our collective years of racing experience will help the younger riders with their development and achieve their cycling goals at a more accelerated pace.  This year we have a strong, all-round and talented team that can be competitive in road races, as well as criteriums and stage races."
The SoCalCycling.com / Craig Shelly Team will compete in races located in Southern California and select NRC and NCC races. The Team will ride Cannondale SuperSix EVOs equipped with ROL Wheels and will be outfitted with SUGOI Performance Apparel, which will assist them in getting to the finish line first.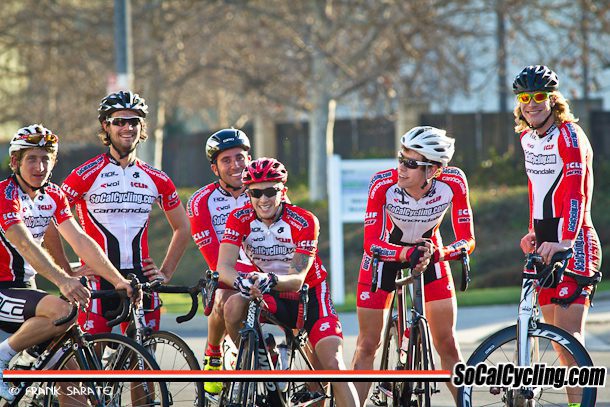 Team Sponsors
We are excited to partner with the following sponsors for 2014: SoCalCycling.com, Craig Shelly Swiss Made Watches, Cannondale, SUGOI, Pacific Premier Bank, Echelon Design web & graphic, Full Speed Ahead (FSA), ROL Wheels, Clif Bar, Incycle, Continental, fi'zi:k, TRP, Larsen's Restaurants, ASEA, Levi Locke and Michael Klinkenberg.
"We are very grateful for the generous support of our sponsors. Their support allows our program and riders to accomplish our goals throughout the cycling season," said Sarate.

2014 SoCalCycling.com / Craig Shelly Team Roster
Frank Sarate  Cat 1 (USA) Rider / Team Director
Tyler Locke Cat 1 (USA)
Patrik Ericsson Cat 1 / Pro (Sweden)
Mathew Merrington Cat 1 (South Africa)
Ryan Schneider Cat 1 (USA)
Lucas Binder Cat 1 (USA)
Evan Stade Cat 1 (USA)
Mario Frayre Cat 1 (Mexico)
Luke Ollett Cat 2 (USA)
Tim Woo Cat 2 (USA)
Team Owners
Frank Sarate – Team Director
Christy Nicholson – Marketing Director
Visit SoCalCyclingTeam.com to learn more about the Team and sponsors!

Stay Connected with the SoCalCycling.com / Craig Shelly Team
Stay up to date with the Team throughout the race season at the Team's web site and Social Media Channels.
Web Site: SoCalCyclingTeam.com
Twitter:  twitter.com/SoCalCycling
Facebook:  facebook.com/SoCalCycling
Instagram: instagram.com/SoCalCyclingcom
About SoCalCycling.com
SoCalCycling.com was created in 1995, and even though regional in name, has become one of the top ranked cycling web sites in the world featuring: Cycling News, Videos & Photos, Event Calendars (Road Racing, Mountain Biking, Fun Rides and Cyclocross), Training Rides, Training Articles, Interviews, Product Reviews and more. SoCalCycling.com covers cycling in Southern California, North America and Worldwide.
To learn more about SoCalCycling.com please visit SoCalCycling.com.