By Frank Sarate, SoCalCycling.com
Rudy Project is probably best known for making sport and recreational optics. In addition, Rudy Project has been making helmets for the past few years including their latest road helmet – Sterling.
The Sterling helmet has a very distinctive European look for styling.  If you want to look like Team Liquigas-Cannondale, then Rudy Project has the helmet for you.
The Sterling fits really well and is one of the more comfortable helmets I have tried considering they only make a small/medium and large. This is achieved by a retention dial system RSR7 on the back, which is very easy to adjust. The Sterling helmet is very light, weighing in at just 349 grams for a small/medium. The Sterling has 18 vents to keep your head cool and uses a plastic skeleton for extra structural reinforcement. It also includes a dock to store your eyewear. This comes in handy if you are riding in the evening or the rain.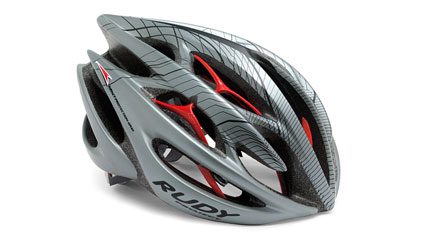 The padding that comes with the helmet includes two sets of padding, including a webbing mesh that keeps the bugs and other debris out. After wearing the mesh webbing for most of the season I haven't even noticed it other than I haven't had any bugs fly in my helmet. The helmet straps are very soft and don't rough the face up.  The Sterling also has padding on the strap under the chin where the strap buckle is located for more comfort.
Luckily, I haven't had to use the helmet in a mishap. However, it's comforting to know that it passes many different certifications.
If you are looking for a comfortable, stylish helmet that is lightweight, the Sterling can be found at your local Rudy Project dealer or e-rudy.com.