With a plethora of energy bars on the market these days. It may seem like it's hard to pick one that might be right for you.
Clif Bar has been making great products for quite awhile now and it seems like they just keep the delicious flavors and products coming.
Clif Bar Dark Chocolate Mocha Bar
I really liked the Clif Bar Crunchy Peanut Butter as my favorite go to bar. However, I think I'll be adding the Dark Chocolate Mocha Clif Bar to the top of the list now. Most cyclists enjoy a good cup of coffee in the morning or after a good long hard ride, so the Clif Bar Dark Chocolate Mocha Bar is perfect for the coffee lover!
Clif Bar actually lets you take that Chocolate Mocha Bar along for a bike ride or whatever adventure you are headed out for, if you need that extra kick of energy. The Clif Bar Dark Chocolate Mocha Bar fills that need for a coffee kick along with a little chocolate. With the two flavors mixed together it is a perfect combo – like yin and yang, peanut butter and jelly –  well, you get the point!
The Clif Bar Dark Chocolate Mocha Bar starts by using a shot of espresso with 65 mg of caffeine, dark chocolate mocha chunks and chocolate covered organic coffee beans to make this a bar with an extra kick when its needed, along with oats and other ingredients to make it great for long steady distance (LSD) rides.
The thing about energy bars is that they have to taste good so you'll want to eat them and Clif Bar always does a great job with this on their products.
Clif Bar Coffee Collection
The Clif Bar Dark Chocolate Mocha Bar is part of the Clif Bar Coffee Collection, which has three different bars. If you like your coffee a different way, then Clif Bar might have the right flavor for you in another Clif Bar including Vanilla Almond Latte and  Carmel Macchiato.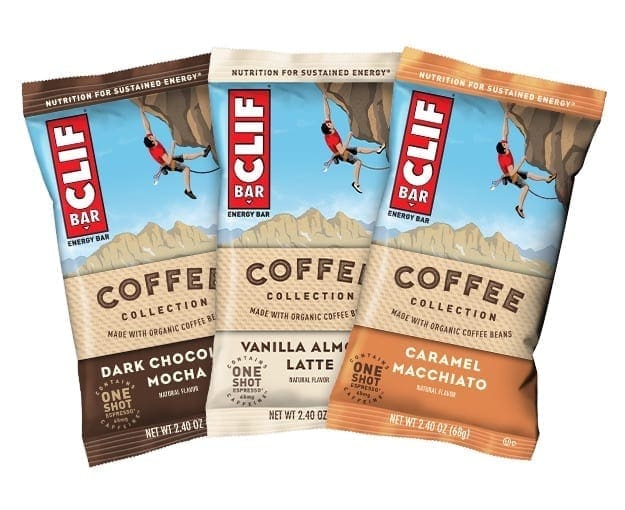 You can find the Clif Bar Dark Chocolate Mocha Bar and Clif Bar Coffee Collection at your local retailers or visit ClifBar.com to purchase online.
Clif Bar have been a supporter of the SoCalCycling.com Team for many years now and has been instrumental in the Team's success.