I managed to get my first win of the season at Porsche Experience Center Los Angeles hosted by Velo Club La Grange. The race was on an actual racetrack for Porsche which I was very excited about as I have never done that before.
After my injury at the beginning of the season, I have trained hard and dedicated to getting back in decent shape. This has included a lot of efforts and some motor pacing to train at race speed. This combination has worked perfectly for me. After I finished 2nd overall at Memorial Weekend Omnium, my motivation and confidence were high and the La Grange Grand Prix was a race  I was looking forward to – especially because of the great prize purse.
The race was at 4:20 pm. Since it was in the afternoon, I went out on a morning ride – just to spin the legs. I could feel that my legs were feeling great and I was ready for 60 minutes of high speed.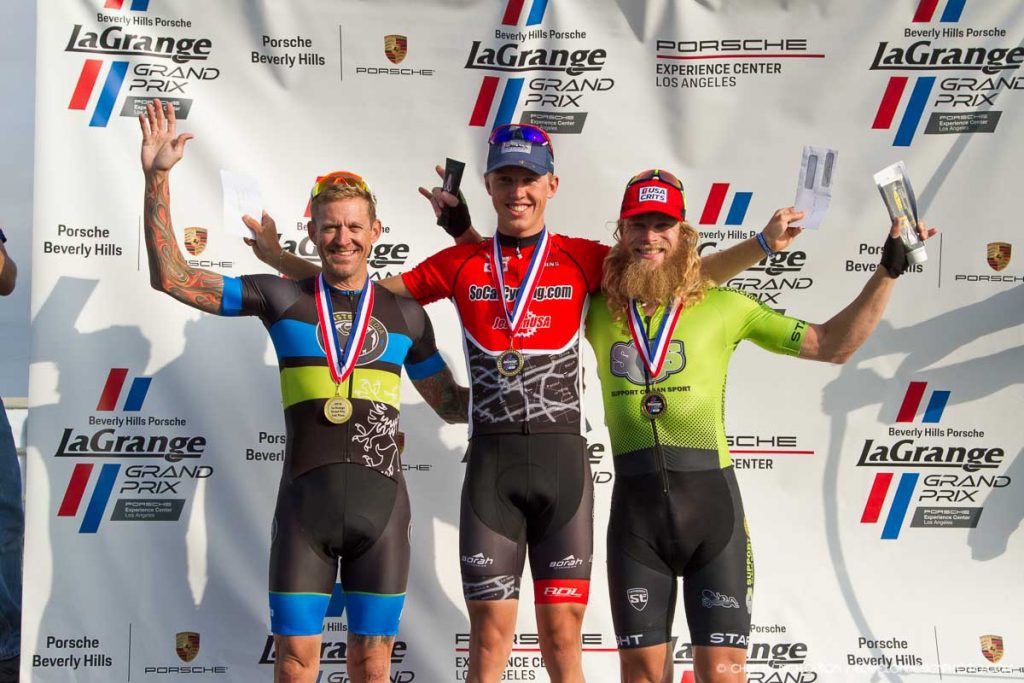 We arrived early at the race and I managed to get a decent warm up since the pace would be high from the start. Early in the race, I felt great. I knew that everyone else was fresh and I, therefore, decided to take it easy in the first half of the race, luckily my SoCalCycling.com Team teammate Chase Goldstein did a good job covering the moves in the beginning.
With 20 minutes to go, I knew that if something was going to get away it would be around this time. I saw Tyler Locke and Callum Gordon coming up from behind me and I quickly jumped on their wheel and just after that Tyler put the hammer down for about 30 seconds and then Callum kept the pace high. I quickly looked back and realized that we had a big gap and was very satisfied with this group, so I started pulling as hard as I could. We quickly got a gap of about 20 seconds and we managed to balance between 15-20 seconds. I could see on the other guy's face that they were starting to get tired and that motivated me to dig deeper.
On the last lap we had about 9 seconds to a chasing peloton and we knew that one of us in the group was going to get the win. Just before the last corner Philip Tinstman opened the sprint and I quickly followed him. To my luck, he messed up the turn and had to break hard. I could, therefore, overtake him on the inside and then sprinted as hard as I could which gave me a 5 seconds peak at 200 bpm heart rate.  I could then cross the finish line in the first place.
The race was awesome and very unique. I want to thank Velo Club La Grange and the Porsche Experience Center Los Angeles for hosting this race and I want to thank the SoCalCycling.com Team and our Team sponsors for making this win possible.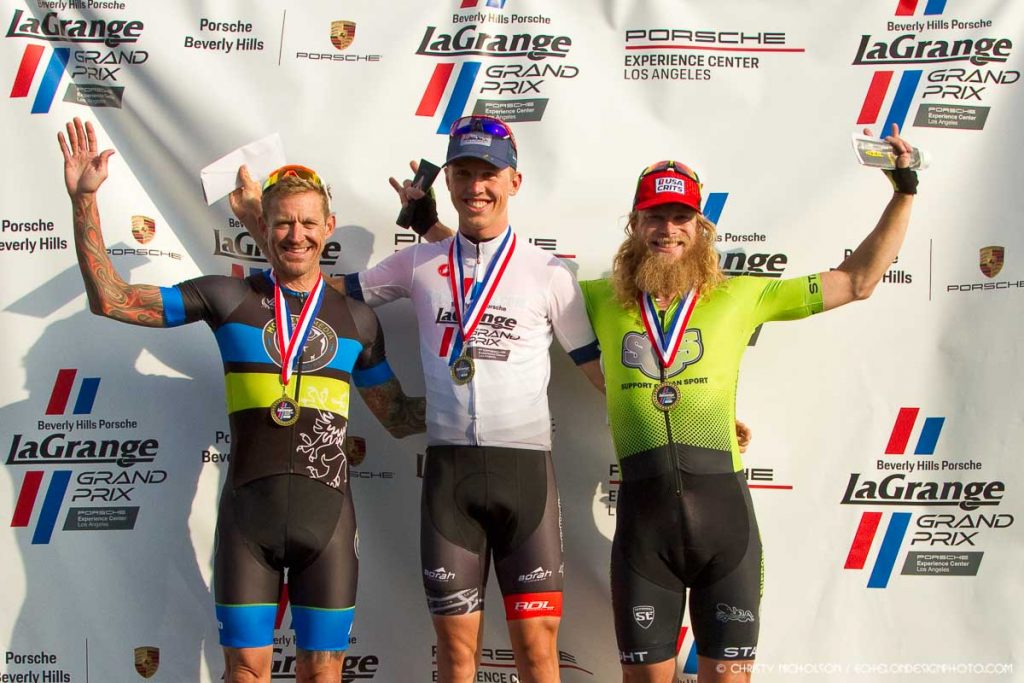 2019 Team Partners
SoCalCycling.com, Jenson USA, Borah TeamWear, Bottecchia USA, Clif Bar, Font Insurance, Full Speed Ahead, ROL Wheels, KMC Chain, Gizmo Cycling, Larsen's Restaurants, Continental Tires, Rocky Mounts, NRC, Bell Helmets, SCC Slick, Echelon Design
Follow Christian on Instagram and follow the SoCalCycling.com Team  at SoCalCyclingTeam.com
By Christian Gorm Albrechtsen, SoCalCycling.com Team
Winning Photo by Steve Cohen
Photos by Christy Nicholson / EchelonDesignPhoto.com